Woodland Horse Center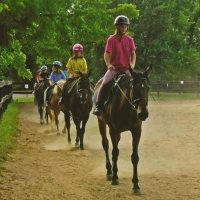 "The friendliest barn in town!"

Woodland Horse Center is Maryland's premier center for horseback riding enthusiasts of all ages and levels. Learn to ride or hone your skills on 25 acres of riding rings, stables and trails.

Woodland Horse Center offers so many exciting programs for all ages. Pony Pals lessons are perfect for children ages 5-7. Children's lessons are available for beginner, intermediate and advanced riders ages 8-15. Riders who are 16 and older are welcome to try adult lessons. Woodland Horse Center also features Horse Camps in the summer and the Saddle Club after school program. Visit their website for more information.