Trimpers Rides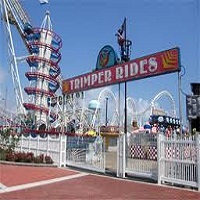 Pass a Wonderful Holiday with Family and Friends
Trimpers Rides is a historic amusement park of Maryland. In fact it is a famous entertaining place for kids. The park will remain open every Saturday and Sunday, after the beginning of their summer session.

Visiting Trimpers leaves you with a fun and amazing experience. There are so many things to enjoy and ride. Lots of games such as- balloon pop, wack a mole, even photo contest, rides are there for your enjoyment. Especially for kids, Trimpers is full of fun and entertainment. Rides like- fire engines, big dodgem, airplanes and many more are there to enjoy in Trimpers.