Thumbs Up Party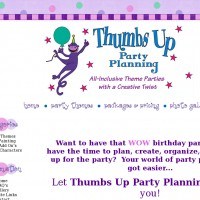 Awesome Maryland At Home Parties
Planning a party at home may be very hectic for party hosts. For instance, you need to make sure all the guests have been invited, set up the entertainment, hire caterers of buy the food yourself etc.

However, you can now let go of all the hassles associated with planning parties at home, thanks to Thumbs up Party. With the help of these proficient party planners, your party will definitely be memorable without all the hassles.