The Charles Theatre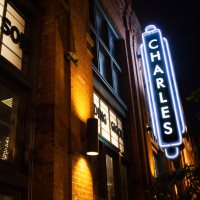 The Unique Charles Theatre
The Charles Theatre is a unique independent movie theatre in Baltimore, MD. They have the distinction of offering first-run specialty films in their 1150 seat theatre, in addition to the latest Hollywood movies. This is place where you will have as much fun as your kids on a rainy day.

Beyond showing nationally-playing movies, The Charles Theatre has many innovative cinematic programs. The Revival Series features a weekly rotation of repertory films presented on 35mm prints and DCP in the original 400 seat theater. There are three showings of a movie per week. On Wednesday nights, come by for screenings of subtitled anime films. On special Cinema Sundays, spend the morning enjoying coffee, bagels and a selection of foreign and independent films. You can also purchase tickets for the Met Opera through the Charles Theatre's box office. Visit their website for more information.