Six Flags America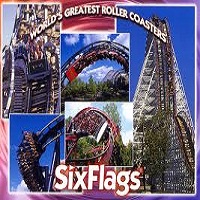 Yahoo It's a Funny Day!
The Six Flags America is a fantastic place to have fun with friends and family. The park remains open for Friday- 10:30 am to 6:00 pm, Saturday- 10:30 am to 8:00 pm, Sunday 10:30 am to 7:00 pm.

Six Flags is the most wonderful amusement park of Maryland. The Six Flags is a place to get fun, fantasy and adventure. So many rides, best roller coasters, lots of events and a complete package for fun with friends and family are available. People love the fastest, tallest and wildest rides. Six Flags is surprising fun for them. In fact, there are lots more to enjoy in Six Flags.