Mustang Alley's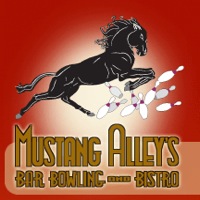 Taking Bowling to a Sophisticated Level!
You don't usually associate bowling alleys with gourmet meals and wine--unless you go to Mustang Alley's. This bowling alley in Maryland has the unique concept of elevating bowling to a sophisticated level. It has 12 bowling lanes, sumptuous food prepared by a real chef, and an impressive wine and cocktail list!

Visit this Maryland bowling alley any day except Monday. It is open from 12 pm to 10 pm on Sunday, from 4:30 pm to 11 pm on Tuesday, and from 12 pm to 12 am Wednesday to Saturday. Bowling costs $45 per lane per hour.