Merkle Wildlife Sanctuary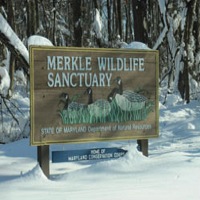 Birds Everywhere!
Love bird watching? Visit the Merkle Wildlife Sanctuary and you'll find one of the most diverse bird populations in the state! The wintering ground for thousands of Canada geese, this wildlife sanctuary/zoo in Maryland has four hiking trails, a driving route, a visitor center, fishing areas, and picnic grounds. Expect to see some four-legged creatures as well, like white tail deer, red foxes, and skunks.

The sanctuary grounds are open from 7 am to sunset. The Critical Area Driving Tour, meanwhile, is open for driving from 10 am to 3 pm on Sundays. Don't forget your binoculars!