Ocean City Life Saving Station Museum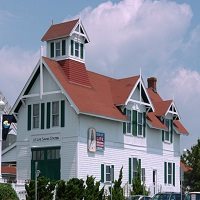 Learn History of Ocean City
If you are looking for a rainy day activity in MD, then you should come to the Ocean City Life-Saving Station Museum. Let yourself travel back through time while previewing the exhibits featuring the history of the U.S. Life-Saving Service, or learn something about Ocean City History. Exhibits include: "The Boardwalk of Yesterday", "Davy Jones' Locker", "Sands of the World", and the newest display "Surf's Up!"

There is something here for everyone - aquariums which represent local marine life, shipwreck exhibits, a genealogy department, and much, much more. Friendly and knowledgeable staff will walk you through all the attractions. Working hours are subject to change. Visit the website for more information.