Frontier Town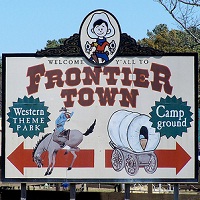 Plenty of Activities in Frontier Town Amusement Park
If your life lacks excitement and fun activities, come to Frontier Town, Maryland's premier amusement park! It offers a waterfront campground situated along the beautiful Sinepuxent Bay and features over 500 spacious campsites. Whether you enjoy tenting or prefer staying at luxury motor homes, deluxe rental trailers or camping cabins, the place is perfect for you.

The parks features one of the top rated golf courses in the country as well as a super fun Water Park with a giant water slide, lazy river, flume rides and large activity pool free to the campers! The campers also enjoy a 20% discount to Frontier Town Wild West Show! Visit the web site for more information.