Dana Verkouteren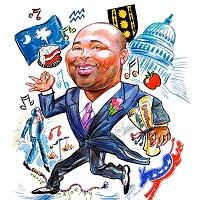 Caricatures can reflect your life
Dana Verkouteren is a well-known MD courtroom caricature artist whose work has appeared on several international television networks such as CNN, ABC and FOX. She has a great reputation in Maryland for her caricature sketches and portrait work.

In her long working life as a caricaturist she has always tried to make a reflection of people's emotions and expressions through her paintings. She has also done many jobs for different medias. She always enjoys her work through seeing the wonder and uniqueness of each individual.