Curves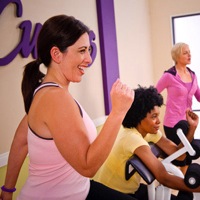 A World Leader in Women's Fitness!
Partner with a world leader in women's fitness for your diet and exercise regimen. Come to Curves! The largest fitness franchise in the world, this fitness center in Maryland offers weight loss and exercise programs designed especially for women. With just 30 minutes of workout three times a week, you can burn up to 500 calories and achieve the shape you've always dreamed of!

Start the journey to a healthier you by visiting this Maryland fitness center any day of the week. Hours of operation are 7 am to 8 pm Mondays thru Thursdays, 7 am to 7 pm on Fridays, 8 am to 12 noon on Saturdays, and 8 am to 2 pm on Sundays.