Calico Toys and Games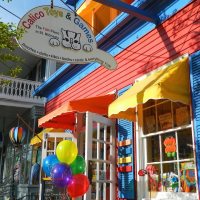 The FUN place in St. Michaels
In the heart of downtown St. Michaels, there is a little red shop with blue shutters and a bright yellow and orange awnings. This building is home to Calico Toys and Games. This whimsical little shop has two floors bursting with the best toys, games, puzzles, books and greeting cards. They feature a unique selection of specialty toys by over 300 vendors from around the world.

Calico Toys and Games has been in business for over 35 years. The company was originally known as Calico Gallery & Toys, and featured a huge framed art gallery with a smaller selection of toys. In 2011, Calico expanded the toy store to bring a colorful and fun experience to its customers. Custom framing is still available on premises. Their mission is to provide the best possible shopping experience for customers, as well as feature the highest quality specialty toys. Come in and have fun!