Arundel Olympic Swim Center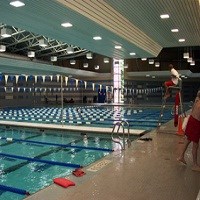 Go swimming on a rainy day
There are many places to spend a rainy day in Maryland. Arundel Olympic Swim Center offers the possibility for having memorable water fun with your friends and family. Come to the swim center and enjoy a temperature controlled, indoor 50 meter by 25 yard swimming pool. There is also an adjacent wading pool and two 1-meter diving boards.

While the kids are swimming and having fun, mom and dad can relax at the 17-person spa. The swim center features fully equipped locker rooms with coin operated lockers and all facilities are handicapped accessible. Prices start from $4. Swim lessons, water aerobics, competitive swim team and lifeguard training are also available at this facility.