Annapolis Bowl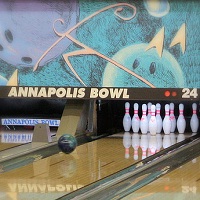 Great Bowling Experience
If you want to spend some quality time with your friends and family, come to Annapolis Bowl, MD. It is the perfect place for family fun. The facility offers 32 lanes equipped for both league and recreational bowlers. Bring your kids to MD location and let them have fun with plenty of bumper bowling lanes. You can enroll your children into In-School Bowling, a program designed to introduce kids of all ages to the sport.

You can try cool Galaxy Bowling where you bowl with the lights down, accompanied by great music and awesome special effect lighting. When you get tired, you can relax, and have a drink or lunch at the restaurant. Working hours and prices depend on the day of the week. For more information, call or visit the website.