Anglo Dutch Pools and Toys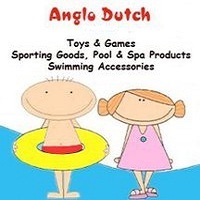 Underwater fun!
Anglo Dutch Pool and Toys sells everything families need to make their backyard the best place to play in the summer! Check out their selection of goggles, snorkels, flippers and flotation devices. They also have fun outdoor toys for sea and sand! Parents can find everything they need to take care of the pool, too.
Anglo Dutch is also a toy store. Find the most complete collection of dolls, stuffed animals, games, crafts and puzzles. Anglo Dutch sells educational toys, collectibles, musical toys, construction sets and children's books. They have toys for everyone, from specialty toys designed for infants to classic retro toys for the "big kids."