Adventure Park USA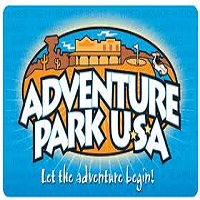 Try a Little Adventure with Adventure Park USA
Adventure Park USA is an amazing place to have some adventurous fun with friends and family. The park stays open Sunday-Tuesday from 11:00 am to 7:30 pm, Friday for 11:00 to 9:30 pm and for Saturday from 10:00 am to 9:30 pm.

Amid the amusement parks in Maryland, the Adventure Park is a popular option for people. Especially for the kids the park is an amazing place. Wildcat roller coaster, Stampede arcade, mini golf, west world laser tag, are some of the attractions of this park. In fact, parties and special events such as- Super Saturday, Twilight Special for Friday night and lots more are available. Everything together will be an awesome experience for guests.