Pleasant Valley Dream Rides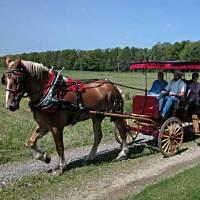 Experience life on the farm!

Visit the picturesque Miller Family Farm in the beautiful Pleasant Valley and Backbone Mountain area. Spend a day experiencing Maryland's pastoral beauty at this family-owned horse farm.

The Miller Family Farm offers their special Pleasant Valley Dream Rides. Travel throughout the countryside in a horse-drawn carriage or sleigh. See the Miller Family Farm by taking a fun hayride. Looking to have more farm fun? Tour the farm facilities and learn about life on an Amish dairy farm. Educational and hands-on experiences are included. Hand-feed the cows and get up close to the horses. Please call ahead of time to make reservations. Have a family fun day on this Maryland farm. Visit their website for more information.